In order to meet the needs of the technical investigation work of the public security departments and security departments, it is necessary to obtain accurate location information of mobile phone users in the designated area. Portable IMSI Catcher is a mobile phone positioning product, which combines advanced technologies in the field of wireless communication, is a set of police equipment tailored to locate criminal suspects for the investigators from security departments.
The Portable IMSI Catcher mainly uses wireless communication means to accurately locate the target mobile phone without affecting the user's normal communication, especially in densely populated cities and high-rise buildings, the role of this product is particularly prominent, and it is easy to carry and easy to operate. It combines with the related 2G/3G/4G wireless communication protocol, after obtaining the approximate location area of the target mobile phone, turns on the device to scan the nearby public network base stations to obtain system parameters, and then configures its working environment according to the system parameters, and then enters the IMSI of the target phone into the target list through the APP.
It will actively send out signals, and lures nearby mobile phones to update the location to the IMSI Catcher. After searching for the IMSI of a single or multiple target mobile phones, the IMSI Catcher checks the user's signal strength by monitoring the uplink and downlink signals. Measures the strength of the wireless signal emitted by the target mobile phone, approaches the target phone according to the signal strength, and uses safe signaling to make the target mobile phone imperceptibly lure the target mobile phone to the IMSI Catcher; finally uses the Individual Decoder to obtain the signal strength of the target mobile phone and accurately locks the actual location of the target mobile phone.
---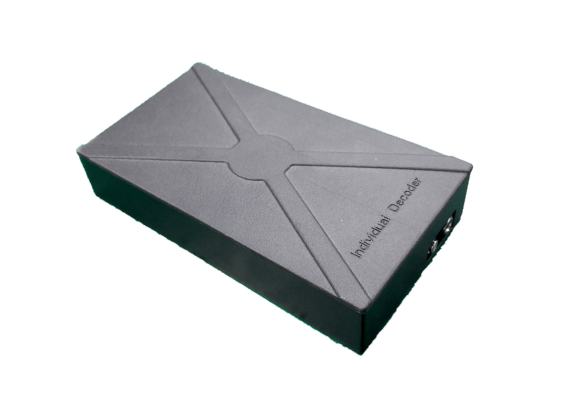 Individual Decoder
Individual Decoder works with Portable IMSI Catcher together, it is an auxiliary device. When the Portable IMSI Catcher detects the target mobile phone and approaches to the target mobile phone, if the target mobile phone is inside a building, the Portable IMSI Catcher keeps working outside, the Individual Decoder can take the positioning mission, it can be configured to detect and display the field strength only from the target mobile phone, so the very cleared field strength can be obtained, then the Individual Decoder can infinitely approach to the target mobile phone according to the field strength.
THE DEVICE IS ONLY PROVIDED FOR USE BY 'SPECIAL DEPARTMENTS AND COMPANIES OFFICIALLY AUTHORIZED BY LAW',AND OTHER COMPANIES OR INDIVIDUALS ARE NOT ALLOWED TO INSTALL AND USE.THE DEVICE (S) WILL NOT BE USED TO CONCEAL OR OTHERWISE ASSIST CRIMINAL AND / OR TERRORIST ACTIVITIES.