Product Description
This Adjustable Multi Bands High Power Signal Jammer is a high power prison and military type cellular jammer. It is used to block mobile signals in a large area. It is used in military areas to ensure that no confident information is leaked by any spy of the enemy and in prisons it is used for security reason. The jammer is very powerful and can block mobile phone signal in large areas. It is loaded with features like worldwide network frequency system and output power adjustable design which makes it user friendly and convenient to use.
The jammer can block(optional)AM, FM Radio, LoJack 173MHz, VHF, UHF, Walkie-talkie, interphone, Wireless FM Radio, Remote Control, 27MHz, 49MHz, 433MHz,315MHz, 868MHz, 450MHz, iDEN, CDMA, GSM, GPRS, DCS, PCS, AWS, WCDMA,UMTS,3G,4G,LTE 700, LTE 800, LTE 2300, LTE 2600, GPS L1,GPSL2, Galileo, Compass, Glonass, WIFI, Bluetooth, Spy camera, WIMAX, UAV, Drone, etc.Shielding distance up to 20-150 meters, depend on the signal strength in the given area.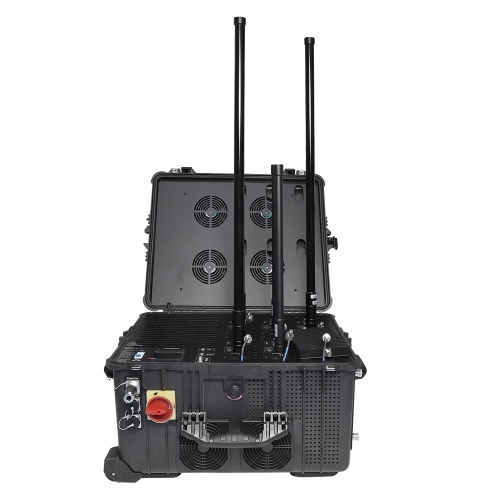 Feature
Max 65watts total RF output power.

Good smart cooling system inside

Each bands can adjust RF output power

Have switch to turn on or off each bands without influencing the other bands operation

Working time: not-stop working

VSWR circuit protection to ensure system will not burn out should there be antenna short circuiting or disconnection.

High Efficiency output power, long jamming distance.

The jammer GW-VIP JAM8 can customize 4 bands, 5 bands, 6 bands.
Being familiar immediately:
Now let us introduce this mobile signal jammer to you ,and make you better understand about the positions of all the buttons, function of accessories and other hardware.
Connect:
With directional panel antenna,(4G/GSM/3G/WIFI)
Power supply interface (AC220V IN),
Switch on your jammer:
Note:(Switching on is not allowed before the all antenna have been linked, otherwise the equipment is easy to be damaged.)
install all antenna at first.
Input the 220V AC power, Turn on the "RED Switch".
Press the on/off green button.
Turn off your jammer:
Turn off the "RED Switch".
Move away 220V AC power from the main machine .
The jammer is out of work.
Application
Prisons, Military, School, detention house or Government buildings, meeting rooms, conference rooms, museums, galleries, theatres, concert halls, churches, temples, restaurants, classrooms, training centers, factories, banks, trains etc.
Technical Specification
Output interface
Shield band of frequency
RF output power
Output power/channel
CH1
2500-2570 MHZ
38.5 dBm
8 dBm/30KHz(min)
CH2
1805-1920 MHz
39 dBm
8 dBm/30KHz(min)
CH3
925-960 MHZ
42.3 dBm
10 dBm/30KHz(min)
CH4
2400-2500 MHz
38.4 dBm
7 dBm/30KHz(min)
CH5
2110-2170 MHZ
38.5 dBm
7 dBm/30KHz(min)
CH6
790-826 MHz
39.2 dBm
8 dBm/30KHz(min)
CH7
2620-2690 MHZ
39.2 dBm
8 dBm/30KHz(min)
CH8
851-894 MHz
40.8 dBm
9 dBm/30KHz(min)

Power supply: AC220V

Jamming area: up to 150m @ according to signal density of mobile network

Weight: 10Kg

Size(length × wind × high):300×200×150mm

Packing Size: 440×540×290mm

Output Power: 65W

Power consumption: 200W

Humidity: 30%-95% Running Temperature: -20 to +55 Celsius Degree